Offering Dental Implants in Montrose, CO
The first exam is very simple and straightforward. When you arrive we give you a tour of the office so you know where everything is and can feel comfortable. We'll then take you back to the operatory to have your X-Rays taken, a cleaning, and then meet the dentist with an exam that includes looking at your teeth and gums. We will also include a cancer screening. The Dr. will consult with you about anything that he finds and answer any questions or concerns that you may have.
We understand that coming to the dentist can be an inconvenience as it takes up time, we do everything in our power to get you back and seated as soon as you arrive. We value your time and don't want to keep you waiting. If we ever get behind in the schedule due to unexpected circumstances we will attempt to call you before leaving your home or office so you don't have to wait when you get here.
We also understand that many people have phobias of the dentist and we have done and will continue to do everything in our power to make your visit as comfortable as possible.

Nitrous Oxide (laughing gas)
Painless injection technique
Children's play areas
Polite, well-trained staff
You can expect the best care possible as all of our equipment is the most up to date and Dr. Hatch continues to stay educated with continued study in the science and art of dentistry. All this is done to provide you with the best dentistry possible.
Dentures and Dental Implants
When you have lost all or most of your teeth, you may be looking for quality dentures in Montrose, CO. Our team at All in One Dental can help you with that. In addition to providing normal dentures, we can also fabricate dentures that actually clip into titanium posts in your mouth and they won't move around on you as you talk and eat. This method of tooth replacement is an implant. When you need dental implants in Montrose, CO, our team is here for you. We'll answer all of your questions and help you find the perfect tooth replacement solution for your lifestyle and needs.



We understand how uncomfortable dental pain is and we will always fit you into our schedule!
Root Canals
If the nerve of your tooth dies then we are able to go in and remove it to get you out of pain. We then fill up the empty nerve space so you don't have future problems.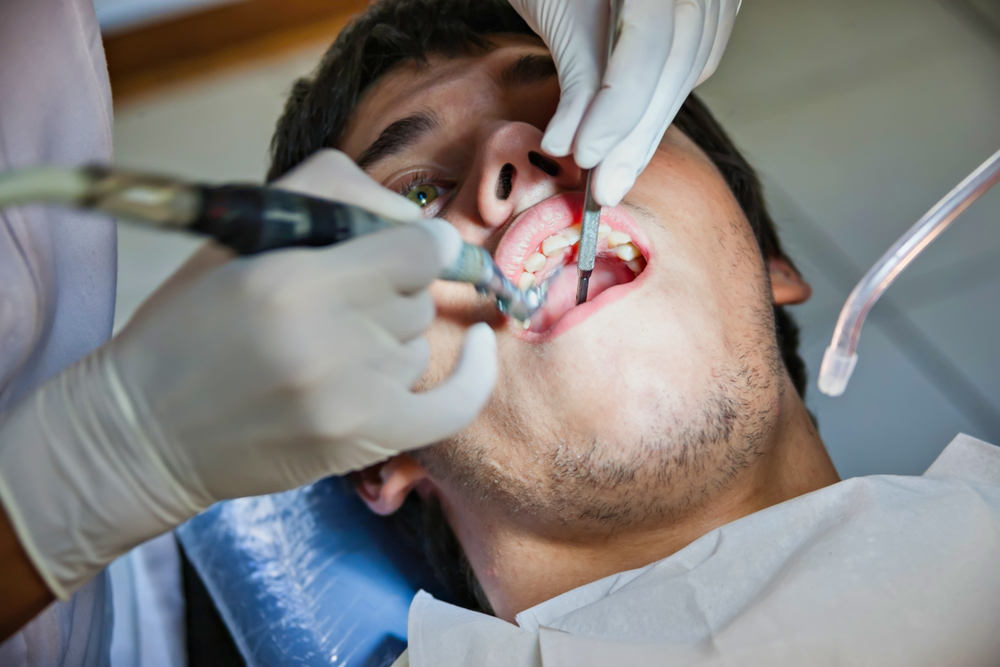 Tooth Colored Fillings
A resin or composite filling is matched to the color of your existing teeth. It is bonded into the place where the decayed portion of the tooth or defective filling has been removed.
Bleaching
We offer a take-home system that allows you to bleach with a custom-designed tray that fits perfectly to your teeth. This is important for bleaching around the edges so the teeth don't appear white in front and dark on the edges. The strength is also prescription-grade, giving you the best results.
Crowns (Caps) and Veneers
When a tooth has had too large of fillings that the integrity of the tooth is compromised and at risk of splitting a crown is placed to encircle the tooth and give it strength to last. A Veneer is used on the front teeth and is a great option to correct esthetic concerns.
Extractions
We do most extractions here at the office including wisdom teeth.
Extractions teeth that are no longer restorable or savable. Moderate I.V sedation available!



Perio Surgery
Recession/Root coverage- When your gums recede it leads to bone loss around the tooth. This leads to tooth instability and eventual tooth loss. It can also cause sensitivity problems. In many cases, we are able to correct lost tissue by grafting your own tissue onto the area of recession. This also stops the progression of more tissue loss.
Open Debridement- When you have had deep cleanings but continue to have pockets that are too deep for you to keep clean at home we are able to open the tissue and clean out any calculus, scar tissue, or diseased bone. This allows the pockets to shrink and heal.
Watch Dr. Hatch Place His Own Implant!